We are looking for freelance writers and bloggers who can write blogs on a variety of topics. The topics would include Tennis, Laptop Reviews, SEO, Online Marketing, Health Insurance Quotes and other topics.
Company Profile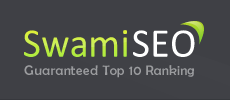 SwamiSEO is part of London based A K Singh Limited. We specialize in providing Guaranteed Google Top 10 Ranking and SEO consultancy.
No. of Positions Available – 5
Job Type – Freelance jobs
Job Location & Timings – Flexible timing, remote job.
Applicant profile
Applicant must have experience in followings
Writing on various topics
Familiarity with WordPress, Blogspot and Livejournal Blogging platforms
Some familiarity with SEO
Some knowledge of HTML is also required
Reporting
Daily reporting is required via e-mail.
Working Hours
Flexible timing.
Communication
Promote communication via e-mail.
Hourly Rate/Salary
Market Rate.
Payment Terms and Conditions

For remote/work from home jobs the payment will be via paypal or any other online method depending on your location.
UK – BACS/UK Bank Cheque/Paypal
USA/Canada/Australia/New zealand– Paypal
India – Paypal/Moneybookers/Cheque issued from Indian Bank.
Russia/Ukraine/Belarus/Croatia/Bosnia Herzegovina/Serbia/Other Eastern European Countries/Rest of World – Moneybookers/Payoner/XOOM or any other method
Payment will be made on Weekly/Monthly basis or after the full completion of project as per mutually agreed terms.
Application Procedure/Interview
Send your company profile(If company)/CV (If individual) with the URLs/Examples of your work to jobs at swamiseo.co.uk