We are looking for expert Freelance Bloggers who can write on any given topics with little research.
Company Profile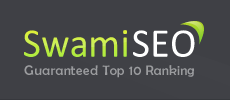 SwamiSEO is part of London based A K Singh Limited. We have been providing Search Engine Optimization consultancy to our clients in UK and across the globe since long time through our other ventures SwamiWebDesign.
SwamiSEO is formed in order to focus on SEO segment and to provide specialized SEO services to our clients.
SwamiSEO offers highly effective, affordable and result oriented Search Engine Optimization, PPC, Internet Marketing, Web Promotion, SEM, and other SEO services to the clients enabling them to achieve top ranking on Google, Yahoo, MSN and other major search engines in less time. We offer guaranteed top 10 ranking on Google and other search engines with money back guarantee.
We cater to all industry veticals vis. as Health, Insurance, Money and Finance, Ecommerce, Online Shops, IT, Real Estate and others.
Visit SEO blog to keep up to date with the latest development in SEO.
Job Specifications
Blog writing.
The subjects of blogs would be wide and you will have opportunity to choose your interest. Some of the topics are
Finance and Money
Insurance

Life Insurance
Auto Insurance
Home Insurance
Health Insurance

IT Hardware
Laptop Reviews
Mobile Phone Reviews
Desktop PC Reviews
Online Games such as Poker, Bingo, Sports Betting
No. of Positions Available – 40
Job Type
Full Time Freelance, at least 8 hours per day.
Flexible timing, you can work any time but you must complete at least 8 hours per day.
Deserving candidates can be considered for full time position also.
Candidates willing work full time in weekends would be given preference.
Working Hours
We work are 24/7 so we can cover any time zone and any country and hence you will have flexible timing.
However you must be available during 8:00 AM till midnight UK time (GMT).
Job Location
This is not office based job., this is remote job and you can work from the comfort of your home. If you are in Bangalore and interested in full time permanent job then we might consider it.
Applicant profile
Applicant must have experience in followings
Blog writing
Article writing
Familiarity with various free blogging platforms such as WordPress, Blogspot.
Any familiarity with blog promotion would be added advantage.
Reporting
You must provide daily report, failure to do so would terminate the contract immediately.
Communication
We require you to be present on Yahoo messenger all the time while you are working.
Hourly Rate/Salary
We offer excellent hourly rate even during this time of recession.
We have plenty of projects all the time which you even can't find in full time job.
Payment Terms and Conditions

For remote/work from home jobs the payment will be via paypal or any other online method depending on your location.
UK – BACS/UK Bank Cheque/Paypal
USA/Canada/Australia/New zealand– Paypal
India – Paypal/Moneybookers/Cheque issued from Indian Bank.
Russia/Ukraine/Belarus/Croatia/Bosnia Herzegovina/Serbia/Other Eastern European Countries/Rest of World – Moneybookers/Payoner/XOOM or any other method
Payment will be made on Weekly/Monthly basis or after the full completion of project as per mutually agreed terms.
Application Procedure/Inteview
Send your company profile(If company)/CV (If individual) with the URLs/Examples of your work to jobs at swamiseo.co.uk
In your profile/CV describe the work done against each and every project. If you have done more than 5 projects then include only your best 5 projects.
If you are applying as company then you must be the developer who will be working on our projects. We don't entertain any sales/marketing people and all communication must be directly with the developers apart from the financial and other projects terms.
You will be invited for interview on YM or Telephone if sortlisted.