We are looking for Social Media Optimization (SMO) Experts to work with us for long term on regular basis.
Company Profile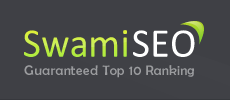 SwamiSEO, part of London based A K Singh Limited, is one of the leading Social Media Optimization consultancy firm. We have been providing SMO consultancy to the leading organizations acrosss the globe.
Job Specifications
Social Media Optimization, Social Networking Promotion, Blog Promotion
No. of Positions Available – 5
Job Type – This is freelancing job
Job Location & Timings

This is freelancing job and you can work from home, you are required to work for at least 6 hours per day. You will have full felxibility in working time however on any typical day you must complete about 6 hours of work.
Applicant profile
Applicant must have experience in followings
Social Media Optimization
Knwoledge and experience in social networking websites such as Facebook, mySpace etc.
Knowledge and expereince of Social bookmarking websites such as Digg, Del.icio.us, Ma.gnolia, Netvouz, Reddit, StumbleUpon, BlinkList, Spurl, Technorati, and others.
Some familiarity with SEO
Reporting
You must provide daily report.
Working Hours
We work are 24/7 so we can cover any time zone and any country and hence you will have flexible timing.
However you must be available during 8:00 AM till midnight UK time (GMT).
Communication
you should be available on chat or via e-mail for promot communication.
Hourly Rate/Salary
We offer excellent hourly rate.
Payment Terms and Conditions

For remote/work from home jobs the payment will be via paypal or any other online method depending on your location.
UK - BACS/UK Bank Cheque/Paypal
USA/Canada/Australia/New zealand- Paypal
India - Paypal/Moneybookers/Cheque issued from Indian Bank.
Russia/Ukraine/Belarus/Croatia/Bosnia Herzegovina/Serbia/Other Eastern European Countries/Rest of World – Moneybookers/Payoner/XOOM or any other method
Payment will be made on Weekly/Monthly basis or after the full completion of project as per mutually agreed terms.
Application Procedure/Interview
Send your company profile(If company)/CV (If individual) with the URLs/Examples of your work to jobs at swamiseo.co.uk
In profile provide examples of your previous work.
You will be invited for interview on YM or Telephone if sortlisted.